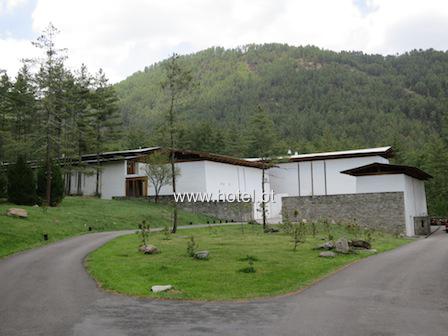 Address:

Paro, Thimphu Punakha, Gangtey Bumthang, Kingdom o

Description:

The richness of life is found in the still simplicity surrounding the remarkably unscathed geophysical and biological existence in Bhutan today. Due to a sincere Buddhist belief, adhered to since the 7th century, the co-existence of nature and nurture has resulted in a unique eco-system and a thriving mosaic of different peoples all linked by a common belief system that regards all life forms as sacred. This prevailing ethos washes the staggeringly beautiful undulating valleys, plains, deep gorges, and mountainous landscape with a force of supreme greatness; that of genuine harmony and environmental compatibility.

To this astonishing effect, Amankora has created a series of lodges, all creatively unique and sympathetically balanced to their environment, in order to discover and comprehend the extraordinary wonders above and beneath this treasured land. The lodges are created to provide a circular pilgrimage in Bhutan's breathtakingly spectacular central and western valleys.

Most journeys start at Amankora Paro or Amankora Thimphu. The lodge in Paro is nestled among glistening conifers in a 24-suite pine forest retreat. Amankora Thimphu, raised up in a blue-pine forest of the Motithang area, sits close to the capital's intriguing sights and traditional shops.

Amankora Punakha is set in sparkling verdancy east of the Dochu La Pass and just north of the resplendent Punakha Dzong.

Amankora Gangtey, set in the remote wilderness of the Phobjikha valley, offers magical views across the bird-strewn gorge and to the empowering Gangtey Goemba, a 16th century monastery.

Amankora Bumthang rests adjacent to First and Second King's palace, Wangdichholing, within the town of Jakar in the Choekhor valley, a valley sprinkled with an exotic mix of sloping pine forests, apple orchards, and restful fields of farm produce.

Room Facility:

tv,hot/cold water, fridge

Location Advantage:

Amankora is a series of lodges across the central and western valleys of Bhutan.
Number of Rooms:
16
Description:
Our suites expand on the amenities our guests already love. Enjoy separate living rooms and sitting areas, larger beds and additional amenities.